Location
Wintrust Grand Banking Hall
231 S. LaSalle St.
Chicago, IL

when
May 24, 2017
5:30 pm
-
8:30 pm
-
Website
More Information
Join us at the Grand Banking Hall as we celebrate the success of Asian American owned companies across the city and abroad. Our panel of business leaders will share key advice for building your personal brand, and discuss the lessons and challenges they faced along the way.
As a locally-owned and operated company, we're proud to bring Chicago's leaders together to share their success stories to teach, inspire and empower those around us. That's why we invite you to network with us too, so we can all grow together.
Hors D'Oeuvres and drinks will be served.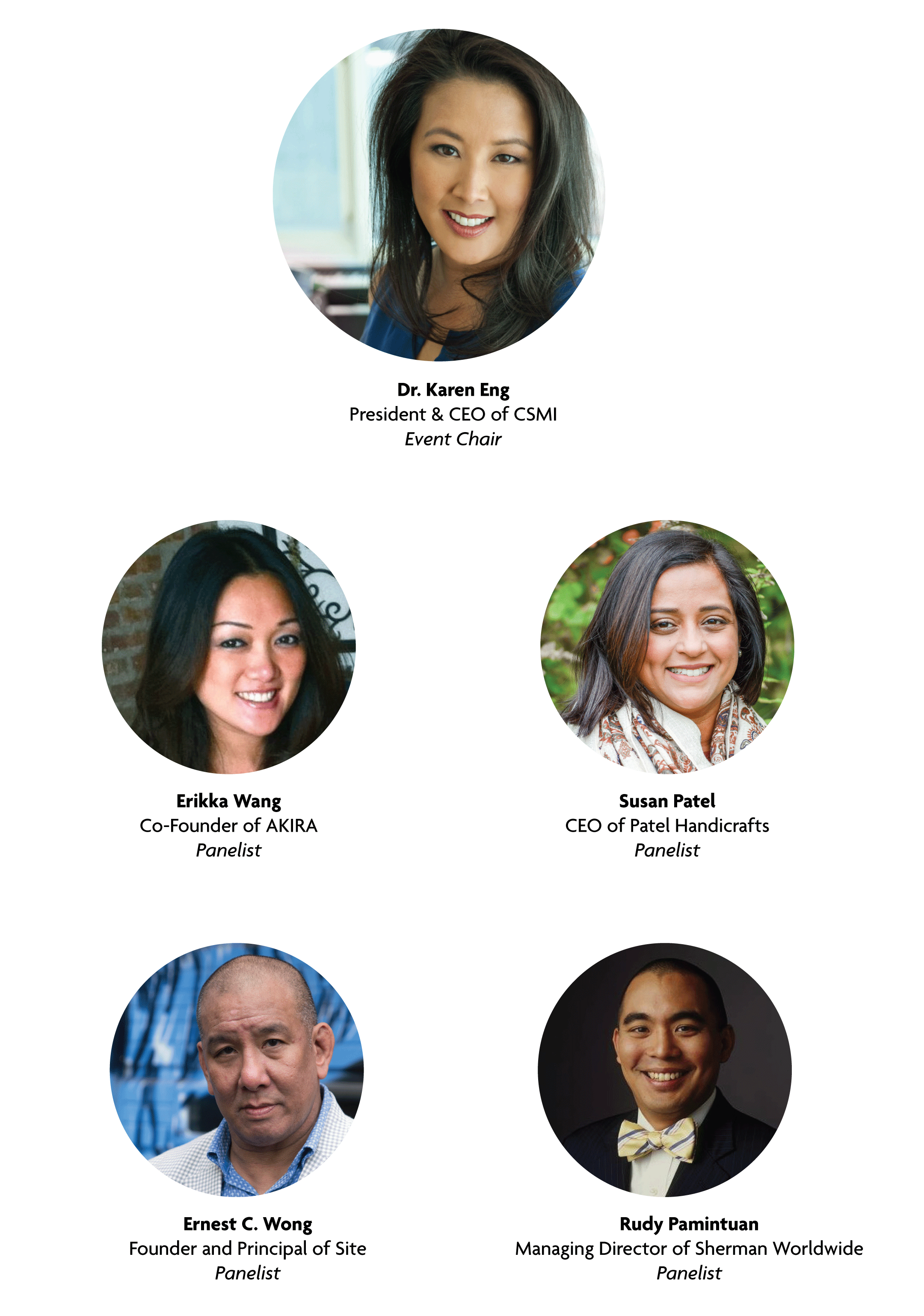 Event Chair: Dr. Karen Eng, CSMI
Dr. Karen Eng | President & CEO of CSMI
Dr. Karen Eng is the president & CEO of CSMI. The company specializes in engineering consulting for the packaging and process automation to the Food and Drug Administration (FDA) and the United States Department of Agriculture (USDA) regulated industries. She is also the founder of Crush2Press, Inc., a wine branding and marketing firm.
She currently chairs the board of trustees for the Illinois College of Optometry and sits on board of directors of the Ann & Robert H. Lurie Children's Hospital and the National Asian American Chamber of Commerce & Entrepreneurship.
She graduated from the University of California, San Diego, with a biochemistry and biology degree, and a doctorate from the New England College of Optometry.
Meet Our Panelists:
Erikka Wang | Co-Founder of AKIRA
Erikka Wang was born in China, raised in Illinois and attended the University of Illinois at Champaign-Urbana. Upon graduating in 1999 with a bachelor's degree in management information systems, Ms. Wang moved to Chicago and took her first job as a computer consultant at Accenture.
Believing in the notion of "living life without regrets," Ms. Wang quit her job and gave up her consulting career in 2000. She packed two suitcases and booked a one-way flight to Los Angeles. While she was exploring life in LA, she noticed the fashion trends were more appealing in LA than in Chicago. That's when she saw an opportunity to create hip, trendy and affordable fashion in the Windy City.
In 2002, Ms. Wang approached her long-time college friend Eric Hsueh with the idea of starting a women's clothing boutique. AKIRA started with one small women's clothing store and has since expanded to 26 locations and an online store. For the first six months, AKIRA had no employees aside from Ms. Wang and Mr. Hsueh. Since then, it has added two more business partners and more than 350 employees.
Susan Patel | CEO of Patel Handicrafts
Susan Patel is one of Chicago's top female entrepreneurs. Having founded three thriving companies in the last 10 years, she knows what it takes to succeed. She is CEO of Patel Handicrafts, an international goods retail store; Bhandu Ethnics, an online international apparel boutique; and Life Line Concepts, an innovative business utilizing blood testing with wellness coaching to improve clients' health. She is a relationship builder and maintains strong ties to the community by volunteering and serving on three executive boards. Ms. Patel and her family live in the Old Irving neighborhood of Chicago and enjoy traveling the world while seeking new adventures together.
Ernest C. Wong | Founder and Principal of Site
Founder and Principal of Site, Ernest Wong has been instrumental in the development of the firm and the landscape architecture profession in Chicago. In managing the landscape architecture and urban design firm for more than 27 years, Mr. Wong has been successful in establishing a reputation for designing creative, thoughtful and functional spaces. He sits on the board of numerous public service organizations and professional juries including the Driehaus Award for Architectural Excellence in Community Design, Near South Planning Board, the Chicago Landmarks Commission and was named one of the 2010 Chicagoans of the Year by the Chicago Tribune.
Rudy Pamintuan | Managing Director of Sherman Worldwide
Rudy Pamintuan is the managing director of Sherman Worldwide where he leads the day-to-day efforts of the firm and all client initiatives – developing, creating and managing projects while overseeing the efforts of more than 200 employees in nine regional offices. Sherman Worldwide provides clients with professional and advisory services in the areas of international affairs, technology, trade, security and opportunity development.
Mr. Pamintuan is committed to philanthropic engagement by maintaining aggressive involvement through his volunteer work in the areas of global health, education, women and children. He serves on a variety of boards including Project Outpost, the Batonga Foundation, the International Leadership Foundation and Avanse. He is the recipient of numerous awards, including the 2011 National WWAAC (Who's Who in Asian American Community) Award.
Our Sponsors:

<  Go Back